Latest News
Lifeline News
Published: Sunday, 28th March 2021
Find all our latest updates and news right here!
Coronavirus Update
Our monitoring service is running as normal, however due to the Covid-19 outbreak we have made some changes to how we are installing Lifeline alarms for our new clients. Please contact us if you would like to know more.
Customer Survey Results for 2020/21!
View the results of our 2020/21 Customer Survey Results here!
Congratulations To Our VE Day Wordsearch Winner!
Congratulations to our client, Jill, who has won the VE Day wordsearch competition. She won a lovely hamper full to the brim with tea time treats from our local farm shop. Our team member, Mandy, kindly dropped off the hamper to Jill who was over the moon with her goodies.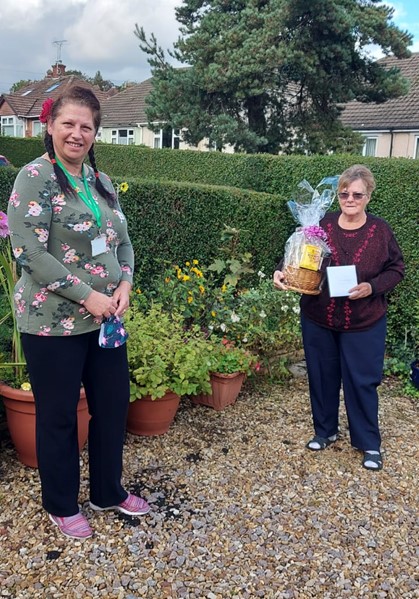 Lifeline team member, Mandy, standing near the VE Day wordsearch winner, Jill, with her hamper. Social distancing was adhered to.
Information Request
Occasionally Harborough District Council's finance team are required to contact you to discuss elements of your account.
If you feel you would like a member of your family or a trusted friend to deal with these matters on your behalf please could you complete the Financial Permission Form that is available in our online form here , and return it to us? You do not need to supply this if you already have a registered Power of Attorney but, if this is the case, we require a copy of this document also.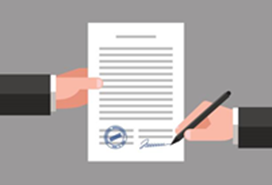 We have been working with First Contact Plus more closely this year; They offer access to several services which can be of benefit to many of our clients.
First Contact Plus offer help and support with:
Improving health
Falls prevention
Independent living
Families & relationships
Money & benefits
Your home
Work & volunteering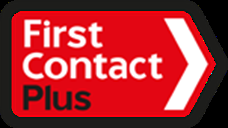 You can self-refer to First Contact Plus via their website: www.firstcontactplus.org.uk or by emailing firstcontact@leics.gov.uk . If you do not have internet connectivity you can use your Lifeline to contact us and we will make the referral on your behalf.
2019 Facts and Figures
29,656 calls answered
360 referrals received
221 referrals activated
760 calls to emergency services
97.5% of calls answered within one minute
Digital Upgrade
In our last Newsletter we informed you about some of the changes that are on the horizon for the telecommunications industry. As part of our digital upgrade schedule we have commenced installing the new generation IP units for our clients. This is a phased operation and as we work our way through each of our service areas, we will be contacting you to arrange installation of this new equipment.
We are looking at completing this over the next few years. During this time, your existing equipment will continue to work, and be maintained by us, ensuring that none of you will be without Lifeline support at any time.
Customer Satisfaction Survey
From April 2019 we have been asking our new clients to comment on our service.
100% of new client found us polite/helpful
98% felt our home demonstration was informative
94% of new clients who used the Lifeline to call for help within their first month rated our response as 'good'
100% said they would recommend us to friends and family
Are you a member of a community group or organisation?
If you belong to a group or organisation, would you be interested in a presentation about our service? If so, please let us know by calling us on 01858 464499 or emailing lifeline@harborough.gov.uk and we can arrange for one of our team to attend a meeting to demonstrate and talk about our service.

RSS version
|
What is RSS?